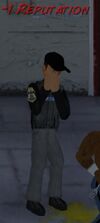 The Toilet Meter is a feature that was first added in Hard Time 2D.It causes a person to need the toilet.It comes in two ways,Peeing and Pooping.

It can happen either uncommonly or sometimes after you drink/eat an object.
What to do
Edit
You should (Obviously) find the nearest toilet or find a tissue (or what looks like a toilet paper roll) to soak it up.If you don't find a toilet or a tissue,you will lose 1 Reputation point in Hard Time and go down a grade in Popularity in School Days.If you pee/poop yourself in the bathroom,you won't lose any Reputation or Popularity.
If NPC Gets Peed On-"Hey (Player Name),If you want to Piss on me I'll beat the PISS out of you!
If NPC Gets Pooped On-"Hey (Player Name),If you want to Crap on me I'll beat the CRAP out of you!
Ad blocker interference detected!
Wikia is a free-to-use site that makes money from advertising. We have a modified experience for viewers using ad blockers

Wikia is not accessible if you've made further modifications. Remove the custom ad blocker rule(s) and the page will load as expected.