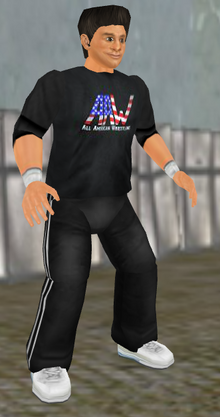 Sean Monaco is a character in Wrestling Revolution 2D/3D and exists in most of the MDickie series. He is based off of real-life ECW owner Shane McMahon. In real life, Shane is the son of WWE owner and Executive Chairman Vince McMahon.
Sean Monaco has black hair, which was Shane's original hair color, before he lost it due to aging in real life.
Ad blocker interference detected!
Wikia is a free-to-use site that makes money from advertising. We have a modified experience for viewers using ad blockers

Wikia is not accessible if you've made further modifications. Remove the custom ad blocker rule(s) and the page will load as expected.