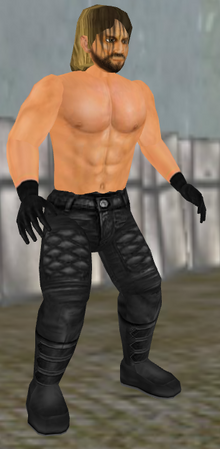 Ronan Raw is a character from Wrestling Revolution 3D and Hard Time. He is a parody of WWE's Seth Rollins during his run with The Shield.
He is usually a warden in Hard Time. But he right now joined All American Wrestling in Wrestling Revolution 3D when he takes his revenge on Amber Lance.
He is also featured with a briefcase as a prop. Note that this is a reference to the real life version of himself (Seth Rollins) at the time when he won the 2014 WWE Money In The Bank match.
Ronan's hair, which is based off Rollins's old hair-do (half blonde-half black) is featured in most games of the MDickie series except for Wrestling Revolution 2D and Hard Time.